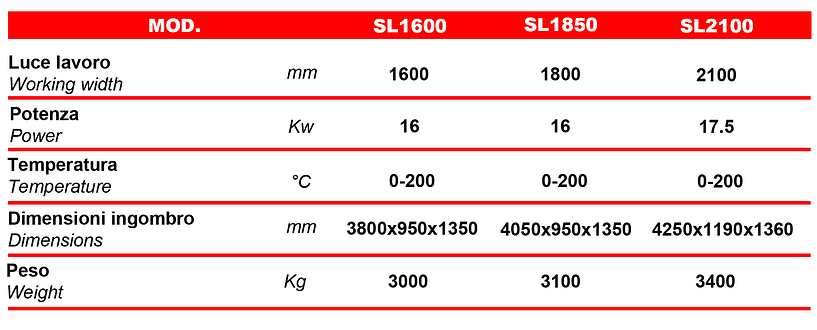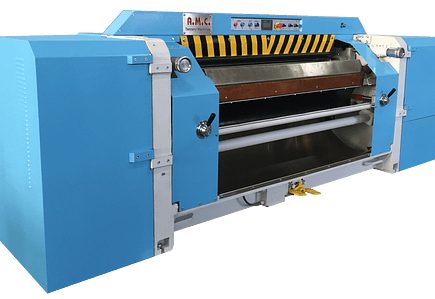 Machine manufactured according to the updates technologies toiron and glaze finish leathers such as cattle hides, pigskins, sheep and goat skins, included the ones with hair. The Ironing and glazing effect is obtained though the transit of the leather between a chromed heated cylinder mirror glazed and a rubber cylinder and following transit between a stretcher cylinder and a bladed cylinder. the different peripheral speeds of the chromed cylinder and of the rubber cylinder brings a light friction on the leather that grants the characteristic bright effect.
The particular position of the cromed cylinder allows the immediate verification of the ironing operation. All the operating functions are hydraulically controlled and these enable the machine to operate in any condition.
MAIN FEATURES
- Hydraulically controlled opening and closing.
- Hydraulically adjustable speed of the transport cylinder diathermic oil heated by a gearcase.
- Temperature regulation from 0° to 200°C.
- Distance between the chromed cylinder and the rubber cylinder adjustable in indipendent way on left side and right side.
- Distance between the strecher cylinder and bladed cylinder adjustable in indipendent way on left side and right side
- Optical infrared rays reader of the temperature on the surface of the chromed cylinder.
- Push button controls and displays placed on the upper front of the machine underthe immediate check of the operator.
- Double accident prevention device with electromechanical barrier and photocells.
Download Product Brochure ITA/ENG